All these advent calendars include links to the tutorials and patterns and the best part is most are FREE! Everyone should have a cute sewn calendar to countdown with their kids.
I am really interested in doing a Winter Wonderland tree or Sugarplum Fairy tree this year and would love to see a tutorial for a matching advent Calendar. Share one if you have it!
This one is really cute, very well sewn, and lots of picture with the tutorial. It uses lots of scrap fabrics so it is great for all the scraps I have saved. I think what I really like about this is the mini stocking pattern, you could use them so many different ways. In the circle pattern you can't hang it but it would make a cute centerpiece on a table or maybe as your tree skirt? She also includes a hanging version in Part 2, I think i would still use buttons in the hanging version as well.
I love this idea, it is really fun. Hang the mittens on your tree and have the kids find the one with the right number. I don't know if I am totally in love with the pattern, but it is much easier than making my own. If you are feeling really ambitious make more then one set color coded for each child. The second is another version of the mittens by
Untrained Housewife
.
I love these little Santa sacks and they would fit a little more than most advent calendars. All it takes is 2 yards of fabric, 30 yrds of cording, and some tags for the numbers. A couple straight stitches and the stockings are done. Easy and festive!
This is really cute idea and so unique, I dont know how well the candy would actually stay in, I might make the tops open and close instead. These honestly just look like decor so it is dual purposed.
2 1/2 yrds of linen, scrap Christmas looking fabric, 2 yrds ribbon, a curtain rod or wooden dowel, interfacing, and double sided iron-on. This would be really easy to hang at the child's height.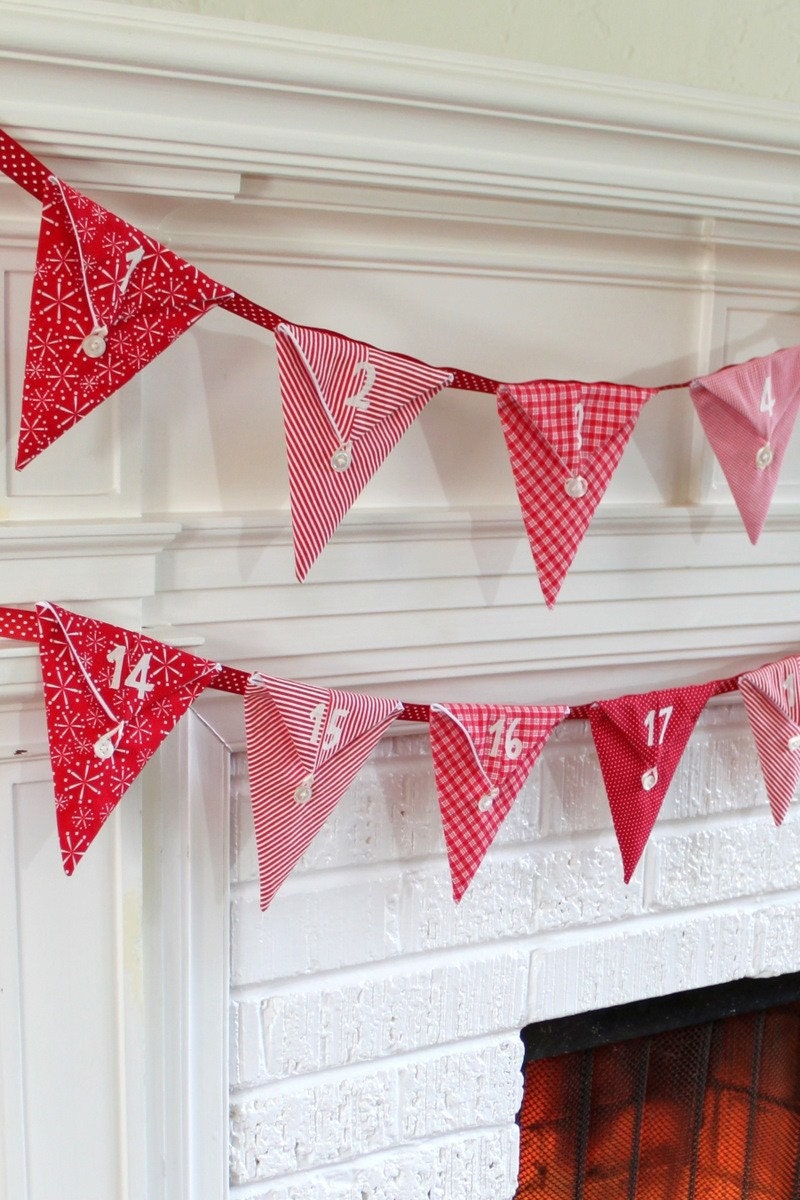 Pendent Calendar
I couldn't find a tutorial for this one, only a place to buy them
Peppermint Pinwheels
. I think it would be fairly simple with a irregular diamond shape for the back and a triangle for the front. it is cute, but might take up quite a lot of space.
This is a really cute idea and you can easily make a mini tree for each child. All you need is extra wide satin and grosgrain ribbon. Cut 8-10" strips, fold in half, sew up each side, tie a ribbon around the top, and attach a number. It is really cute and they can put a mini ornament on for every bag they take off so the tree doesn't get too bare.
This is a cute way to teach your kids the real meaning of Christmas why counting down. Each day you add to your scene with a figurine. Make with felt, embroidery thread, some cording for the numbers, Velcro and a wooden dowel. There is another version of this idea at
2nd Tutorial for Nativity Calendar
.
I like this one alot, but I would have used a better green for the tree, one that was more bright like the original version at PB. She shows you how to make the squares including stitch techniques that would be useful on a lot of the other calendars. The middle picture is the actual PB version. The third picture is another knockoff version at
Family Ever After
. I like her tree the best and she includes activities to put in every number! This one does take time so start it now!
This is similar to the Nativity Calendar except each day you get to make a Christmas scene. Make with felt, embroidery thread, some cording for the numbers, Velcro and a wooden dowel. This pattern is not free but you can
buy it
or be inspired to make your own.
This one takes a little more work, but it surely shows in how gorgeous it looks. I like the idea of putting family traditions and things to do in them. It could be something like making ornaments, go see Santa, make cookies, read nativity book, etc... It is made from Moda Charm Packs, but you could use your own fabric easily. I would attach ties at the top and a wooden dowel so that it hangs.
Baby Socks 3 Ways
These are not really sewn, but who cares they are so cute and easy. I will include 3 different tutorials although they are pretty much the same. The first i love how they hung in the window and is made by
Radiator Tunes
. The second is by
Martha Stewart
and is really easy with sticker numbers. The last is my favorite with sewn on ribbon bows and tags made from metal rings at Staples, so cute! Thanks to
EAB Designs
for the additional tips and attaching it to garland.
These are very festive and could be made into any color combination to fit your theme. They are simple to sew with felt, buttons, and thread. Add some scrap fabric strips and your done.
These are simple if you have an embroidery machine, if you don;t use felt and whip stitch the items on. The kids can decorate however they want and if you have multiple kids make more than one decoration for each day. The possibility of decorations is limited only buy your imagination.