Dont overpay on the foam, ruse an old chair or use coupons! It will make these projects so much more affordable. Choose your fabrics wisely: remember they are going to be climb on, jumped on, and spilled on, they are for kids. I included bean bags even though they may not technically be foam.
So cute and I think almost any kid would love this. What you need: PVC with some fittings, heavy duty fabric, foam, and some velcro. I think these would stack well to make one for each of your children.
Very simple and practical. I think I want a couple of these for bedtime story-time my knees or bum is always killing after. These would easily store under a bed, dresser, or in a closet. Skip the zipper and use heavy duty velcor which would be much easier to sew, if you don't know zippers.
My mom made these for me and my brothers over 20 yrs ago, I honestly think they could be so much better than the store bought ones. Both of my kids have store bought ones and the fabric is so thin and the foam for that matter. Making them also allows you to make it the size you want so it is a little bigger that the tiny store bought ones.
This is just like the ones at the store, only this way you can make them your own size. It is pretty similar to making a chair, so if you run into any problems check the chair tutorial and it may guide you.
Super easy and affordable. This is a simple way to make your kids more comfortable where ever they sleep. If you use a waterproof fabric it is also easy to clean.
My mom used to cut foam this way with an electric carving knife, I think it is the best way to have clean edges. If you cover your foam with some batting it softens the edges and makes it look cleaner. The foam used in most these projects also is pretty hard, adding a little batting will just make it more comfy.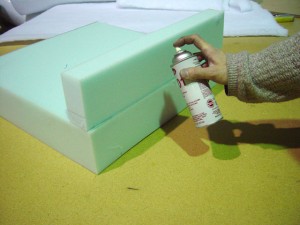 From what I can research this is the best way to glue foam together. Use a spray adhesive, spray both sides and let dry till tacky, then line them up and press them together. Next press firmly without tearing the foam on both edges all the way along. Let dry a couple minutes and you should be good to go. Test your glue on a scrap piece to make sure it will not melt the foam.
Bean Bags
Land of Nod knockoff
Both Childs size and Teen Size
Martha Stewart
Ruffle Idea, Not tutorial
Baby Bean Bag Idea