Continuing with getting organized for the holidays. Most of us will be in the car for quite some time driving to families and more holiday parties. Our car is a mess all the time lately, I think every pair of shoes my kids have is in there although none of these will solve that issue. Make some for yourself or your friends as gifts to help them organize too.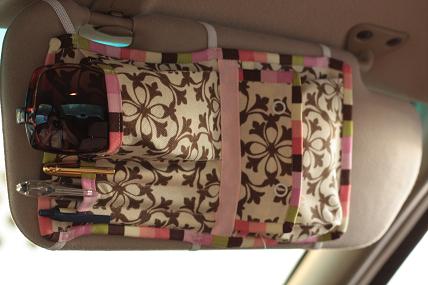 All time favorite! Bag to back seat toy organizer. I need at least 2 of these, my kids are always filling the car with things and then I have to take them all back in. Get the tutorial from
Tidbits
.
CD visor holder from
by your hands
. Most of you probably don't have CD's but we have a couple DVD's anf kids CD's that need a home. I think I would make it to store those small jewel cases.
We have store bought covers for our seat, but I am contemplating making one or two of these for the younger kids seats. Rasons: #1 the store bought ones only cover the seat part, not the back and the seats dig in pretty hard when correctly attached. #2 these ones would stay on a lot better with all booster seat that are getting moved. Get the awesome tutorial from
bubbly nature creations
.