First, wedding anniversaries are important. It is the one time of year that is special to just you and your
spouse
. It is a time to stop everyday life to rekindle that love and personally renew your sacred vows. Just like birthday its a reminder that something special happened that day. They are their to help you celebrate that you accomplished another year and dream of the moments to come.
"
Anniversaries are important, not because they commemorate an earlier event, but because they help us relive it. When a husband and wife celebrate an anniversary, they re-experience a special emotion created by their marital commitment 1 Rabbi Shmuley ."
Some important things to remember when planning an anniversary:
They should be rare and meaningful

They are not a competition

Be charming and romantic, but not fake

Follow traditional anniversary themes

Get help from your spouse friends or family if you need it

Dont spend the money if you dont have it, be practical.


Important Anniversaries
2nd: Cotton
20th: China
25th: Silver
30th: Pearl
35th: Coral & Jade
40th: Ruby
45th: Sapphire
50th: Gold
55th: Emerald
60th or 75th : Diamond
Strength within the interwoven fibers; Paper 1st Anniversary
The idea for the 1st anniversary
stemmed
from the fact that paper has
strength
from woven and intertwined fibers yet still having its unique delicateness
. After a year of
marriage
you are intertwined together, but still have the delicate nature of a new relationship.
The color is
papyrus
yellow and the flower is carnations, orange blossoms, and/or pansy's.




Gift ideas
Joe DiMaggio Framed Marriage Certificate
Now this one was not easy to find an idea for or a picture example, but I think it happens to be one of the best if not the best. How many of us actually even know where our marriage certificate is? I know ours is in an envelope somewhere. Get some of your favorite pictures from your wedding, honeymoon, reception, rehearsal dinner, etc... the candid ones I think are sometimes better. Next get your wedding certificate or have a fun one made. If your religion also gives you a certificate of sealing (LDS) or other include that too. Its all up to you but will be one of the greatest things you hang in your home, your kids and grandkids will all love looking at this. This is a great one for a husband or wife.
If your spouse loves magazines renew there favorite magazines or add some more they will like. If you search the internet you can find great deals on magazine subscriptions.
Stocks and bonds are a paper gift that invests in your future. A share holder certificate or if you haven't already a joint account. If you do this make sure it is in both of your names, it could be a little offensive if it is in your name only. I would also strongly recommend a romantic gift along with this one.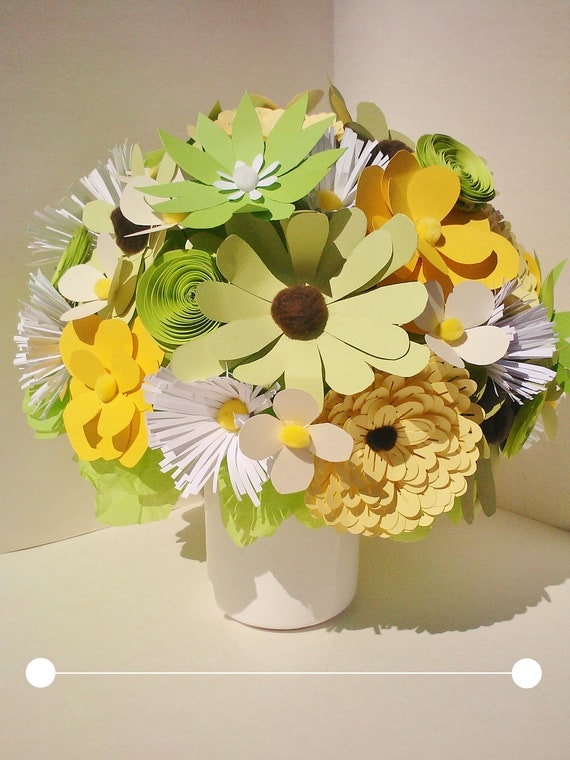 This Boquet is from Inspired Designs